The Center initiates projects and responds to requests for technical assistance. Each project is tailored to meet the specific situation and needs of the people involved, and may range from short consultations to one-time meetings to multi-year negotiations.
International Joint Commission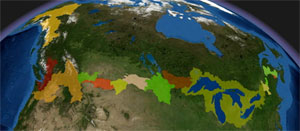 At the request of the International Joint Commission (IJC), the Center designed and facilitated a 3-day retreat in February 2013 with commissioners and senior staff from both Canada and the United States. The purpose of the retreat was to (1) critically examine the authorities and constraints of IJC; (2) evaluate the purpose and performance of 15 transboundary boards governed by the IJC; (3) identify priorities on how to improve the efficiency and effectiveness of these boards; (4) examine the purpose, implementation, and future of the International Watersheds Initiative; and (5) create more strategic thinking and planning within IJC. The Center will continue to advise the IJC on implementing several of the outcomes of the retreat.
Resolving Land Use Disputes
Throughout the United States, communities of all sizes are increasingly relying on a new approach to prevent and resolve land use disputes -- a consensus building approach that brings all the relevant stakeholders together in a face-to-face dialogue, often assisted by an impartial mediator. Based on a national study of land use dispute resolution, this professional development course introduces citizens and officials to the basic theory and of consensus building, helps participants understand when and when not to engage in consensus building, how to design an effective process, and strategies to improve the effectiveness of the process. The course includes a mix of lectures, case studies, simulations, and problem-solving clinics.
For more information on this workshop, please contact the Center for Natural Resources & Environmental Policy (email), the Consensus Building Institute, or the Lincoln Institute of Land Policy.
6th World Water Forum
The World Water Forum is the largest gathering in the world focused on water use, management, and policy. It meets every three years, and regularly engages 25,000 people from every corner of the globe in a week of dialogue on issues ranging from the right to water and sanitation, the impacts of climate change on water resources, and alternative governance arrangements – among many other topics.
Since spring 2011, the Center has been working with the Secretariat of the 6th World Water Forum – which will be convened in March 2012 in Marseille, France -- to (1) mobilize and engage political and water leaders from the U.S. American West; and (2) prepare a policy report that tells the story of innovative solutions and institutional responses to water problems in the U.S. American West, .
See more information at World Water Forum.
This project was recently featured on the Montana Watershed Coordinating Council's website, in the "Latest News" section.
Read an account of the experience of federal officials, state legislators, and representatives of Native American Tribes, an international water commission, and a conservation organization as they shared the story of water management in the U.S. American West at the 6th World Water Forum in Marseille, France, in March 2012.
Colorado River Governance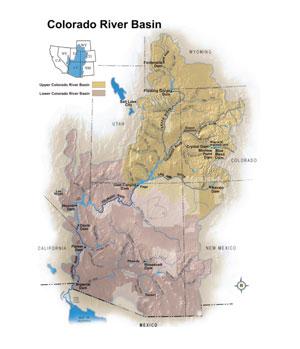 The Colorado River Basin faces profound long-term water management challenges. As illustrated by the information contained in the Colorado River Basin Water Supply and Demand Study (released in December 2012), increasing demands for water for a variety of uses may not be sustainable in the long term, especially in light of projected impacts of climate change in the Colorado River Basin.
In cooperation with Carpe Diem West, the Center has engaged in a broad, ongoing dialogue about the issues and policy options for improved Colorado River management and governance.  An initial report (Thinking Like a River Basin, released in January 2011) summarized the views of Colorado River basin leaders, highlighting the need for a broader range of stakeholders to engage in discussions about the river's future. A second report (Governing Like a River Basin, released in December 2011) explored four stakeholder involvement options based on models in other parts of the country. Center Senior Fellow Sarah Bates is currently working on a third report, which will focus on priorities for next steps to implement the "call to action" embedded in the Basin Study.
Natural Resources and Environmental Policy Forum
Since 2010, the University of Montana Natural Resource and Environmental Policy Forum has featured speakers from a variety of disciplines providing insights into the ways in which we make decisions, resolve conflicts, and plan for sustainable use of our air, water, and lands.  All programs are free and open to the public.
Spring 2012 Forum Speakers
Date

Presentation

February 28

Yvette Converse, US Fish & Wildlife Service

The Great Northern Landscape Conservation Cooperative:
A Collective Vision for our Landscape

Noon, Room 101, UM School of Law

March 22

Ian Stirling, Canadian Polar Bear Biologist

The Ecology of Polar Bears, Climate Warming, and the Effects
on Human-Bear Interactions

7:00 PM, UM Urey Lecture Hall

This lecture is offered through special cooperation with the 4th International
Human-Bear Conflicts Workshop, offered through the UM College of Forestry 
and Conservation (http://www.cfc.umt.edu/humanbearconflicts/);

April 10

Chris Smith, Wildlife Management Institute

From Ancient Rome to the Ruby River: Why the Public Trust Doctrine Matters to You

Noon, Room 101, UM School of Law
The forum series is convened by the U.M. Center for Natural Resources and Environmental Policy, in cooperation with the College of Forestry and Conservation, School of Law, Bolle Center for People and Forests, Resource Conservation Program, Environmental Studies Program, Department of Geography, and the Indian Land Tenure Foundation.
2nd Arab Water Forum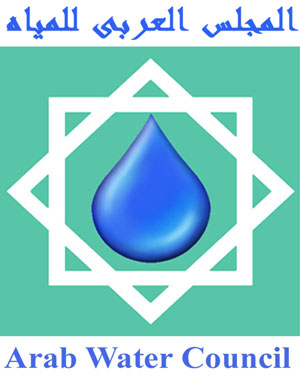 At the request of the Arab Water Council, the Center served as part of the "general rapporteur" team at the 2nd Arab Water Forum in Cairo, Egypt. The Forum was convened in November 2011 and included nearly 400 people from over 20 Arab countries. The 4-day event included plenary speeches, break-out sessions, and several informal dialogues.
The final outcome of the Forum includes the Cairo Declaration, which presents a water agenda for the Arab region. To learn more about water in the Arab region, visit the web site of the Arab Water Council.
While water issues in the Arab region may seem to have little relevance to water issues in Montana and the US American West, in fact there are tremendous opportunities for mutual learning. The Center will continue to work with the Arab Water Council to explore opportunities to share research, education, and policy responses to increasing water scarcity.
Idaho Aquifer Management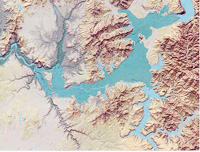 The Center is working with the Idaho Water Resource Board to develop a Comprehensive Aquifer Management Plan (CAMP) for the Rathdrum Prairie basin in the Cour d'Alene area and Treasure Valley basin around Boise. The water management plans are designed to address water supply and demand issues projecting 50 years into the future.
The Center will work with participants during a 12-to-16 month process to clarify the capacity of existing surface and ground water supplies and to build agreement on how best to meet current and future demands, along with multiple interests.
Resources:
Regional Collaboration
Countless examples across the country (and arguably the world) suggest that "planning across boundaries" is fast becoming one of the major puzzles in land-use policy. This puzzle is defined by two fundamental points. First, the territory of many land use problems transcends the legal and geographic reach of existing jurisdictions and institutions (public, private, and other). This mismatch between the geography of the problem and the geography of existing institutions leads to the second point: the people affected by such problems have interdependent interests, which means that none of them have sufficient power or authority to adequately address the problems on their own.
As we move into the twenty-first century, there seem to be three basic responses to this planning puzzle: (1) create new regional institutions; (2) realign existing institutions to correspond to the geography of the problem; and (3) engage people with diverse interests and viewpoints in more informal, ad hoc regional forums. Whether formal or informal, top-down or bottom-up, regional initiatives provide opportunities that would not otherwise exist to solve land-use problems that transcend multiple jurisdictions, sectors, and disciplines.
The purpose of this workshop is to both build and share knowledge about regional collaboration. It highlights some of the most promising case studies around the country, focusing on what works, what doesn't, and what lessons can be transferred. The workshop is also an opportunity to examine emerging policy issues, and to share the practical skills that the Lincoln Institute and others have gleaned over the years through research and hands-on clinics. Toward the end of the workshop, participants have an opportunity to apply what they have learned and develop an action plan on a regional land-use issue that is important to them.
For more information on this professional development course, please contact the Center.
The Center, in partnership with the Lincoln Institute of Land Policy, maintains a web site dedicated to regional collaboration.
Beetle Mortality
This project will explore the role and value of Joint Fact Finding (JFF) as a means to avoid and/or resolve disagreements over scientific and technical information and to explicitly link science and policy considerations in decision-making and evaluation processes. This exploration will take place in the context of a demonstration project using JFF methodology to address the current controversy surrounding fuels-reduction programs in beetle-killed lodgepole pine stands in Colorado.
Working with the Forest Service Rocky Mountain Region, we will design and carry out a collaborative process among scientists and stakeholders to explore the reasons for apparent scientific discrepancies in views on the value of fuels reduction in beetle-killed lodgepole pine zones and to develop a research agenda aimed at resolving questions of fuels treatment effectiveness in reducing fire and other risk in these zones.
Sierra Nevada Land Tenure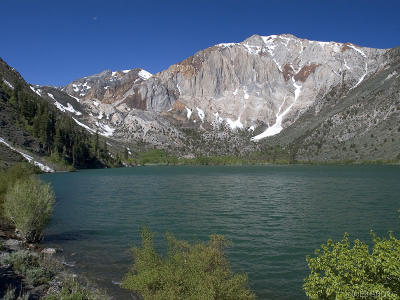 With almost 97% of the land base in Inyo and Mono counties owned by the federal government and City of Los Angeles, there is a distinct lack of private land within and adjacent to existing communities available for community expansion and sustainability. Much of the undeveloped private land is isolated, usually surrounded by federal and/or Los Angeles Department of Water and Power (LADWP) lands, and may contain valuable wildlife habitat and other natural resources. As growth demands increase, more of these isolated private parcels are being proposed for residential subdivision. Development of the these isolated parcels may be at odds with both counties' general plans and citizen desire to encourage growth adjacent to existing communities.
The Center worked with the Sierra Business Council and several other partners to identify opportunities for land exchanges along the east-side of the Sierra Nevada. The Center prepared a policy brief to assist community planning agencies as they consider using Federal Land Exchanges as a tool to meet community goals.
Federal Land Exchanges:A Primer for Local Citizens and Planners (2010) (PDF)
Visiting Fellows
The Center contributes to academic life on campus by hosting one or more Visiting Fellows each year. Visiting Fellows typically deliver a seminar on some aspect of collaborative governance and/or natural resource policy, provide a written outline of their seminar, and meet with and advise students. Current and former Visiting Fellows include:
Paul Larmer, High Country News (2009)
Ken Snyder, PlaceMatters (2008)
John Freemuth, Professor of Political Science and Public Administration, Boise State University (2006)
Robert Keiter, Professor of Law, The University of Utah (2006)
Martin Nie, Professor of Natural Resources Policy, The University of Montana (2006)
Sandy Hodge, Professor of Citizen Participation, The University of Missouri (2005)
Larry Susskind, Professor of Urban and Regional Planning, Massachusetts Institute of Technology (2005)
Rich Moy, Montana Department of Natural Resources and Conservation (2005)
Desmond Connor, Professor of Citizen Participation, Simon Fraser University (2005)
Ed Weber, Professor of Political Science, Washington State University (2004)
Pat Field, Vice President, Consensus Building Institute (2003)
Sarah Bates, Natural Resources Law and Policy Consultant (2003)
Public Land Law and Policy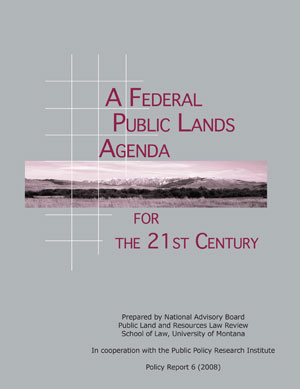 The Center promotes well-informed and sustainable policies for public land and resource management. In pursuit of this goal, we provide professional support and mentoring to the student-run Public Land Law Conference at the University of Montana School of Law, the longest running legal program dedicated to public land issues.
In support of the 2008 Public Land Law Conference, the Center facilitated a dialogue on public land policies for the new presidential administration with members of the National Advisory Board of the Public Land and Resources Law Review, resulting in a major policy report issued early in 2009.  Center Senior Fellow Sarah Bates has spoken at a number of the public land law conferences, published three articles in the Public Land & Resources Law Review, and taught Public Land and Resources Law at the University of Montana School of Law in the Fall of 2011.  She also mentors individual students interested in public resource law and policy.
Edwards Aquifer
The Center teamed with Joe McMahon at Collaborative Processes to provide facilitation services to the Edwards Aquifer Recovery Implementation Program stakeholder group. The Center assisted the group as they developed a plan to address protection of the Edwards Aquifer as a water supply and address protection of the threatened and endangered species associated with the San Marcos and Comal Springs.
The Edwards Aquifer Recovery Implementation Program (EARIP) is a collaborative, consensus-based stakeholder process to protect and contribute to the recovery of the federally listed species associated with the San Marcos and Comal Springs, while also protecting the Edwards Aquifer as a water supply source. The EARIP consists of a diverse group of regional stakeholders. See additional information regarding the EARIP.
Integrating Land and Water Decisions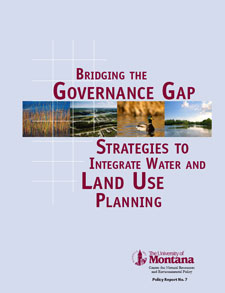 Despite the obvious relationship between where and how people live and the water they need to do so, our institutions have been slow to encourage decision makers to think about land and water use together and to engage in a dialogue with affected publics about the consequences of those decisions. The dual pressures of population growth and climate change (along with impacts of energy production) are prompting a more urgent look at this connection.
Since 2007, the Center has played a prominent role in highlighting strategies to integrate land use and water arising throughout the country. The Center has published two widely distributed policy reports on this subject, as well as professional articles, op-eds aimed at a more general audience, and chapters in books.  Center staff frequently are asked to speak to groups of land use planners, water mangers, and policy leaders on this subject. Senior Fellow Sarah Bates is pursuing these and related topics as a project team member of the Carpe Diem West network on climate change and water, including policy work focused on emerging headwaters partnerships between the Forest Service, nongovernmental organizations, and urban water suppliers.
California Water Utility Governance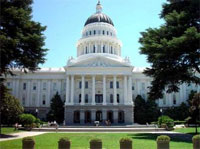 At the request of the Resources Legacy Foundation, the Center prepared a draft report examining alternative institutional structures to govern a water delivery entity separately from the DWR. The analysis suggests criteria to evaluate alternative governance options, based on case studies of a variety of special-purpose public entities. It provides a starting point for the detailed deliberations that necessarily accompany consideration of major institutional change. This report provides a template for considering a range of options and highlights key elements of an accountable and responsive governance structure, but it does not advocate a single "ideal" model.
The report is available here (accompanying table is here).
This report informed a recently released study of the Little Hoover Commission, Managing for Change: Modernizing California's Water Governance (Aug. 2010).